The beauty obsessed will obsess over this mini-washing brush! – Vogue
And we couldn't agree more! TheLUNA™ miniintroduced a revolution in facial cleansing, combining FOREO's ground-breaking T-Sonic™ pulsations with an innovative silicone brush design for a deeper and gentler cleanse. The pulsations help to unblock pores and reduce their appearance resulting is deep cleansing to effectively remove blemish causing impurities and bacteria leaving your skin refined, smooth and clearer.
What makes the
LUNA™ mini
different is that its dual brush surfaces are divided into 3 distinctive zones. The front side of the device has a series of thinner touch points for gentle cleansing of normal or sensitive skin, with thicker touch points grouped at the top of the brush for precision cleansing of hard-to-reach areas. The reverse side includes only thicker touch points, which allows pulsations to reach more directly into the pores for the deeper cleansing of oily skin.
Cleansing Mode T-Sonic™ pulsations help to unclog pores of dirt, oil and makeup residue, and remove dead skin cells. Try spending around 15 seconds cleansing each zone of your face; after this interval the LUNA™ mini's indicator will flash and pulsations will pause momentarily as a reminder.
After removing all your makeup, dampen your face and apply your regular cleansing product and rinse the LUNA™ mini's brush surface.
Turn on your LUNA™ mini by pressing the centre button once, activating the high-intensity Cleansing Mode. Start cleansing your chin, move along your jaw to your ear using gentle upward strokes, then continue higher to cleanse the whole cheek.
Change to the other side of your face and repeat step 2.
Then, starting from the centre of your forehead, cleanse the entire region with gentle outward strokes to both sides.
Cleanse one side of the nose by gently gliding the LUNA™ mini up and down, then change to the other side. We recommend activating the LUNA™ mini's low-intensity Cleansing Mode by pressing the centre button a second time before delicately cleansing the under-eye region using outward strokes.
After 1 minute, the LUNA™ mini's indicator will begin to emit a steady glow and you will feel the pulsations pause 3 times in quick succession. Rinse your face to complete the 1-minute cleansing routine.
The cleansing brush itself is made from silicone meaning there is no need for replacement. The quick-drying nonporous touch-points resist any bacteria build-up making it up to 35x more hygienic than normal sonic brushes. The brushes are gentle and easily glide across your face making it ideal for daily use.
Another great feature of the LUNA™ mini is its suitability for all skin types and needs. Whether you have dry / sensitive skin or oily skin, the nonabrasive, extra gentle cleansing will leave your skin feeling amazing within minutes.
It is also completely waterproof and therefore can be used in the bath and shower while the long lasting charge and light weight makes it perfect to take it along your travels.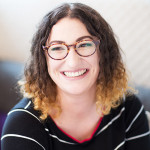 Major fan of scented candles, Make Up brushes and Highlighter. I'm always on the hunt for those Holy Grail products and my dressing table is covered in more beauty products than I like to admit. As an adopted Northerner originally from Brighton, I spend most my days wondering what all this rain is about. My hair isn't grateful for the move. Currently loving:
NIOD Photography Fluid