So today marked the launch of Origins on Lookfantastic – an exciting day for every skincare fanatic out there (and there's a few of those here at the office)! To celebrate the launch, we thought we'd team up with a few of our favourite bloggers, @helloterrilowe, @iliketweet and @angharadbjones – who gave us their verdict on the origins multi-mask face mask pods!
Terri from HelloTerriLowe
"Having combination skin, which can often be spotty to hotty in places and dry in others, I found combining the Origins face masks a dream come true! Too often I cover my entire face with the same mask, which can be wonderful for some parts, but awful for others. Tailoring the masks to my needs meant I could fight blocked pores and also ensure the right places were getting much needed moisture."
Clare from Iliketweet.com
"After a weekend at a festival in the sun, my skin was absolutely horrendous and needed some extra TLC. I treated it to a Origins 10 minute mask and I saw an instant difference, my skin was softer, felt cleaner and looked more even than before."
Angharad from style-trunk.co.uk
"My skin's been playing up a bit recently so I tried out the Out of Trouble and Clear Improvement masks. After only 10 minutes of use, I noticed a significant change – my skin was clearer, brighter and smoother – plus the Out of Trouble mask smells really good! I'd love to see how my skin changes after a few more uses."
Pick up your own origins masks today & join in  #FaceMaskFriday by tagging @lookfantastic on Facebook, Twitter or Instagram!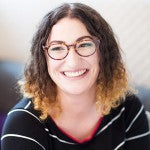 Major fan of scented candles, Make Up brushes and Highlighter. I'm always on the hunt for those Holy Grail products and my dressing table is covered in more beauty products than I like to admit. As an adopted Northerner originally from Brighton, I spend most my days wondering what all this rain is about. My hair isn't grateful for the move. Currently loving:
NIOD Photography Fluid