Flawless makeup and a perfect complexion go hand in hand. It's never been easier to achieve such effortless results than with the limited-edition Luxe Collective from Beauty Box. Containing 9 beautifying products from top brands such as Laura Mercier, Shiseido and NARS, this box will have you feeling your best self.
The Luxe Collective is your ultimate beauty buy for this season.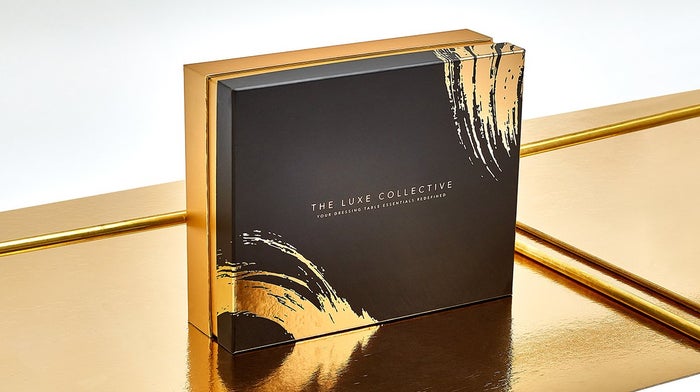 What's in the box:
Laura Mercier Rouge Esentiel Lipstick
Inject some intense colour into your pout with the ultra-creamy Rouge Esentiel Lipstick in 3 different shades (Which one will you receive?) from Laura Mercier. Blended with Mediterranean Sea Algae, this formula is super light and delivers maximum effect without compromising comfort or coverage.
Laura Mercier Translucent Loose Setting Powder- Honey
Laura Mercier puts their iconic twist on this Translucent Setting Powder in shade Honey. With a touch of sheer coverage, the powder avoids settling into fine lines and pores, giving a modern matte finish that is crease-free.
NARS Climax Extreme Mascara
Weightless, highly volumised lashes have never been easier! The NARS Climax Mascara delivers effected volume in one application. Unleashing your true potential, the silky formula is enhanced with the brands New Loaded Pigment Complex, ensuring maximum impact as it amplifies your lashes from root to tip.
NARS Blush- Orgasm
Uplift your complexion with the NARS Blush in shade Orgasm. The lightweight blush is formulated to define and accentuate the contours of the face, featuring micro powder pigments for buildable coverage.
Shiseido Benefiance Wrinkle Smoothing Cream- 15ml
Energise the look of dull, tired eyes with the Shiseido Benefiance Wrinkle Smoothing Eye Cream. Working to smooth out the appearance of fine lines and wrinkles, there's no better way to achieve smoother, more firm skin around the eyes.
Shiseido Ultimune 3.0 Face Serum- 5ml
Enhance your natural beauty and reinvigorate your skins surface with the Shiseido Ultimune 3.0 Face Serum. Powered by eight botanical ingredients, the anti-ageing serum works to supports skin's immunity and circulation. A potent blend of Rosella, Reishi Mushroom and Iris extracts helps to improve skin's resilience against the effects of ageing, while Lotus and Ginko work to combat environmental aggressors.
bareMinerals Pureness Cleanser- 120ml
This gentle formula has been specifically designed to be used on all skin types- including sensitive skin. The Pureness Cleanser from bareMinerals contains only 15 ingredients, making it clean, pure and effective. Soothing and blurring the appearance of irritation, the cooling gel cleanser washes away makeup while leaving the skin's natural barrier intact for a smooth, soft finish that never feels tight or stripped.
Serge Lutens La Dompteuse Encagee Eau de Parfum
A masterful floral blend, Serge Lutens' La Dompteuse Encagee Eau de Parfum is a bright, sexy scent that blends seamlessly with the skin. Like white-powdered snow, it's a fresh yet delicate fragrance that's softened by the whims of Frangipani Blossom, adding a subtle almond accent.
NARCISO RODRIGUEZ Narciso Ambree Eau de Parfum 10ml
Envelop yourself in the bold and intriguing scents of the NARCISO RODRIGUEZ Narciso Ambree Eau de Parfum. The sweet, floral fragrance is encased in a delicate, sleek peach bottle. The mesmerising cocktail of scents opens with top notes of rich, smooth Frangipani and opulent Ylang Ylang, evoking visions of bright, bustling summer parks with colourful flowers bursting into life.
Subscribed to the LOOKFANTASTIC Beauty Box? Click through your early access email* and shop this indulgent collection for just £45!
Not subscribed yet? Subscribe today and get £10 off when you use code LUXEBB
*valid on 3, 6 and 12 month subscriptions only
As the Beauty Editor for LOOKFANTASTIC Beauty Box I'm always hunting for a good beauty story, I like to remain ahead of the trends. But aside from this, I'm a keen reader and writer in my spare time. You'll find me with my head in a good book most of the time- Beauty & Fashion related or otherwise! You'll often find me obsessing over the latest tropical-scented body oil or lathering on the coconut moisturiser. As you may have already guessed, I have a natural affinity for all things tropical. Beauty and grooming for me is escapism, a little slice of heaven away from the day-to-day.