Fragrance, like many other aspects of your beauty routine, is deeply personal to you. Finding the scents that we choose to spritz ourselves with is not as simple as just grabbing the first pretty bottle you see on the shelf, and as someone who is particularly fussy with their fragrances, I know this all too well.
For many who find it difficult to vibe with perfumes, finding a signature scent is less about what is the trendiest brand, and more about which fragrance won't give you a headache after five minutes of wearing it. Whilst many scents may appeal to us with the initial spray, strong, rich, and intense fragrances can be overwhelming after just a few minutes of wearing them.
If you struggle with a sensitive nose and find the majority of perfumes too overbearing, then you're not alone. However, that doesn't mean fragrances are off limits altogether! Instead of super sweet, strong scents, try opting for something light, fresh and delicate instead, and watch those olfactory headaches disappear. So, which perfumes are best for all the perfume-haters out there? Read on to discover our top five fresh fragrances.
For lovers of comforting, clean accords that won't overwhelm the senses, this super soft scent from Maison Margiela is ideal for you. Part of their Replica collection, featuring scents designed to evoke nostalgia, this floral fragrance encapsulates the memory of a long, luxurious soak. Topped with soap bubbles accord, combined with lavender and coconut milk, this scent will leave you feeling clean, fresh and calm with just a few spritzes.
If ultra-sweet scents give you the ick, Jo Malone London's Poppy and Barley Eau de Cologne will surely satisfy your senses. This is a fruity, floral blend, but not the 'wearing my grandmother's perfume' type of floral. Notes of red poppy and blackcurrent combine for a floral freshness, whilst white musk works to soften and calm the scent, preventing those 'perfume headaches' that many are prone to.
For a feminine fragrance that isn't sickly sweet, Calvin Klein's CK IN2U is a great alternative. Topped with notes of pink grapefruit and zesty bergamot, resting on an amber and vanilla base, this floriental fragrance has a hint of bright, fruity notes. Although long lasting, this scent blends effortlessly with your natural scent, making it great for a subtle touch of fragrance.
As soft and sensual as cashmere on bare skin, this delicate fragrance adds a touch of luxury. Top notes of kumquat and mandarin blend with a base of cashmere and cedarwood, making for a warm, refreshing scent. Ideal to wear in the evenings, this fragrance has the luxe-factor, without being overbearing.
Often referred to in viral Tik Tok videos as being a certified 'clean girl fragrance' this OUAI North Bondi Eau de Parfum is a deliciously fresh, soft scent. Topped with apple blossom and bergamot, with a calming base of white musk, this fragrance has a crisp edge, yet is gentle enough for those averse to intense scents. Inspired by Sydney's famous Bondi Beach, this makes for a great fragrance to take you through the summer season.
Shop all fragrances on LOOKFANTASTIC.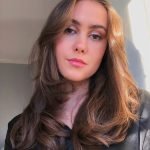 As someone with an affinity for all things beauty, discovering fantastic new products is my not-so-secret obsession. Over the years I've tried and tested a mountains worth of creams, serums and cleansers, finding some of my favourite 'holy-grail' products along the way. However, I'm always on the lookout for more ways to nourish my hair, perfect my dewy base, or enhance my skincare routine. Working as a beauty blogger for over 3 years, I've been lucky enough to collaborate personally with lots of amazing beauty brands including Christian Dior, The Body Shop and Dermalogica. I've used the Dermalogica special cleansing gel religiously since I first got it and their products are some of my ultimate skincare faves. When it comes to cosmetics, NARS Sheer Glow foundation is definitely my go-to - I live for a light, glowy base!