There are some products that just manage to capture the imagination. Benefit's Benetint is one of those; so much so that this one product helped launch the entire brand. We're talking about the surprising past behind this tint and how it has become such an iconic product.
Where the Benetint Story Began
The birth of Benetint was in 1977. Jean and Jane Ford owned a small beauty boutique in San Francisco and one day an exotic dancer came in with a fairly unorthodox request.
She asked for a product that would tint her nipples for shows; she wanted something that would make them perfectly pink and last throughout the routine, a beauty problem we would never even have thought of otherwise!
Despite the unusual nature of the task, the sisters got on with trying to make something perfect for the job. They  took some lessons from traditional methods of creating lip and cheek tints to try to get the right formula that would leave the perfect flush.
This means that the first Benetint was created from steamed rose petals; Jean and Jane extracted the colour until they were left with a rich, vivid red tint that left the perfect pink stain. This was given to the dancer in a simple cork stoppered bottle with a hand-drawn label and  from that moment, the rest was history!
What is Benetint's Magic?
Despite its less than conventional beginnings, Benetint was immediately one of those products that gathered avid fans. After hearing about it, women across San Francisco came to the little boutique to get their Benetint fix. From that point, the company has grown and grown but this was really the product that launched the brand.
So what is it about Benetint that has captured the beauty world's hearts?
It adds a pretty, effortless rose flush straight out of a Pre Raphelite Watercolour -Sali Hughes
As Sali says, this magical flush is what Benetint is all about. Whether dabbed onto the lips for a just-bitten look or blended out over the cheeks for a rosy glow, it is the kind of colour that people keep coming back to; it must be something about those rose petals!
The Future of Benetint
Still to this day, the product is one of Benefit's bestsellers and has been the inspiration for a whole range. Posie Tint, Lolli Tint and Cha-Cha Tint have added to the family, offering different tones but the same staying power.
The reality is that stains are a lifesaver for any makeup lover with a busy schedule. They are quick to apply, last on the skin and look beautifully natural. With the current trend for long lasting makeup, there is still a space for a product like Benetint, that seamlessly combines both modern tastes and traditional concepts.
There is no doubt that Benetint is here to stay and long may it last, we say!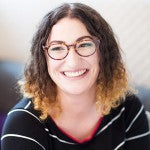 Major fan of scented candles, Make Up brushes and Highlighter. I'm always on the hunt for those Holy Grail products and my dressing table is covered in more beauty products than I like to admit. As an adopted Northerner originally from Brighton, I spend most my days wondering what all this rain is about. My hair isn't grateful for the move. Currently loving:
NIOD Photography Fluid