French braids are a timeless classic that have become even more popular over the last few months. But; whether you have long, short or mid-length hair, they can be quite tricky to perfect. To make it simple we've put together a step-by-step tutorial with the help of Morroconoil Haircare Educator @laurabellhairso you too can learn how to French braid hair like a pro! 
How to French braid hair
Step 1:  
PREP! To help make the braiding process effortless, start by adding one pump of your chosen oil to the mid lengths and ends of your tresses. Brush your hair back to remove any knots and get it roughly in the right direction for braiding. We recommend the Moroccanoil Treatment Oil to help tame flyaways and to leave your locks silky smooth.  
Step 2: 
Take a section of hair, horizontally from temple to temple and split this in to 3 even sections. Hold one section in your left hand, one in your right and rest the middle section on your little finger.  
Step 3: 
Start by crossing the far-left section over the middle section, followed by the far-right section over the new middle section.  
Step 4:  
So far you have the start of a basic plait, it's this stage that makes it French! Before taking the left section over for a second time, take a small section of hair and add it to the left section before passing it over the middle. The smaller the sections used the more detailed the braid will be. 
Step 5:  
Repeat on the right and continue this method until you run out of hair at the base of your head.  
Step 6: 
Finally continue crossing left over middle then right over middle until you reach the end of your hair and secure with an elastic to keep all that hard work in place! If you want the ultimate sleek French braid, try straightening the ends with the ghd Gold Stylerto eliminate frizz.
Top tips from @laurabellhair
Focus on the floor, looking in a mirror can actually make it harder! Keep your head tilted down so you can take your time to do it.
If your braid feels flimsy on the first couple of pass overs, don't worry. As more of your hair gets anchored in to place, your braid will start to feel more secure. If you still feel like you need some extra support use hair clips and hair spray to keep it firmly in place.
Experiment! Once you're familiar with the technique, you can start to braid in different directions or add more than one. 
Shop all hair products at LOOKFANTASTIC.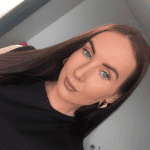 As a beauty fanatic I'm always on the lookout to try and experiment with new products! I've been writing about everything beauty for over 3 years and specialise in skincare so have plenty of tips and tricks to help put blemishes at bay and get your complexion glowing. Whilst being a content writer at LOOKFANTASTIC I've had the opportunity to collaborate with incredible brands including Tom Ford, Dolce & Gabbana and La Mer, taking my understanding of the industry to the next level. In the past I've been a freelance makeup artist and have collaborated with brands including NYX and Revolution Beauty on a personal level, sharing my makeup creations for the world to see. My ride or die brands have to be PIXI, Laura Mercier and Bobbi Brown and I can't live without my trusty MAC Velvet Teddy!