With every beauty brand, there that one person who knows everything there is to know about the products; from how they are made to how to use them. That is exactly who Lisa Potter Dixon is for Benefit.
We've been lucky enough to meet Lisa a few times over the years but recently we met up to chat about her latest fashion week experiences, beauty must-haves and the trends of the season this Autumn.
The Bio
Lisa is Benefit's makeup guru. She started her beauty career 15 years ago after her BA in Theatre and English Literature.
She joined the Benefit team almost a decade ago, working on catwalk makeup shows and at high profile industry events.
She is now their lead makeup artist, a total expert on brow shaping and works to help train the Benefit teams across the UK.
Makeup and Beauty with Lisa
Q

You've just done all your fashion week shows. What makeup product could you not have lived without?

A

Q

Can you share a favourite fashion week memory?

A

I've been heading up shows at LFW for the past 8 seasons and I always love every second-the buzz and the adrenaline are crazy. There's nothing quite like it. There are always last minute models due to the crossover of show schedules and one season I literally had 6 minutes to do Cara Delevigne's make up. FYI she was covered in glitter from the previous show. My team and I were literally masking taping her entire body trying to remove the glitter! We did it and got the look complete with 30 seconds to spare... However, my fave moment every show is the feeling of pride I get for my team. Each and every one of them works exceptionally hard for me.

Q

What were the Benefit products you reached for again and again this season?

A

benefit Hoola Bronzer

. Sometimes I use it to contour, sometimes it's just to add a healthy glow. Either way, Hoola is an absolute backstage essential.

They're Real Mascara.

 I usually have 25 models per show-so I make sure each of my team have enough brand new They're Real to give one to each model as they are as obsessed with it as we are!

Gimme Brow.

It's all about the brow and this beauty makes eyebrows look fuller and thicker in seconds.

Boi-ing Concealer

. This covers a multitude of sins- yep supermodels have skin dilemmas too!

Watts up Highlighter.

Perfect for adding a glow down the legs 10 seconds before the girls hit the runway.

Q

What trend are you most excited for this season?

A

Oooo there are so many fab trends for Autumn but my favourite has to be disco brows. Yep! This is a thing and it's the coolest thing EVER for Christmas!

Q

Who is your beauty icon?

A

My Nan! She never leaves the house without her pink lipstick on. Ever! 

That was the advice she gave me too.

Q

What is your Beauty Secret?

A

Put mascara on your bottom lashes first. You naturally look up when you apply mascara on your bottom lashes, which if you've  already put mascara on your top lashes can transfer to your eyelid and ruin your eyeshadow. You can thank me later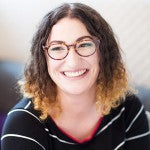 Major fan of scented candles, Make Up brushes and Highlighter. I'm always on the hunt for those Holy Grail products and my dressing table is covered in more beauty products than I like to admit. As an adopted Northerner originally from Brighton, I spend most my days wondering what all this rain is about. My hair isn't grateful for the move. Currently loving:
NIOD Photography Fluid