When your skin is in a state of flux, it can be challenging to know which skincare products will help alleviate your symptoms and which products could exacerbate the issue.
With rosacea, we understand that your skin can quickly switch between periods of remission and painful flare-ups, including bumps, pimples and visible blood vessels. And whilst there is no cure for rosacea, there are ways to manage it through lifestyle changes and targeted skincare.
Unpredictability with your skin can be frustrating; therefore, it is best to stick to a simple skincare routine that you can call upon on the days when your skin is playing ball and on the days when it isn't.
Is Liz Earle skincare good for Rosacea?
Liz Earle skincare uses naturally active and responsibly sourced ingredients, which is particularly helpful if you are trying to cut back on any unnecessary chemicals being applied to your sensitive skin. The brand prides itself on using the best quality soothing ingredients such as aloe vera and cucumber, which work to help nourish and harmonise your skin.
The best Liz Earle products for Rosacea
The Liz Earle Instant Boost Skin Tonic is a lightweight, non-astringent formula that will help to refresh your skin and boost levels of hydration. Hero ingredient aloe vera will provide essential moisture while calendula, chamomile and cucumber further soothe aggravated skin. The addition of Vitamin E helps protect your skin from environmental aggressors by creating a protective barrier.
Key Features
Cruelty-Free.
Use morning or evening.
Contains skin-soothing ingredients.
Helps restore moisture.
It is essential not to overload your sensitive skin with greasy, heavy formulas, which is why the Liz Earle Skin Repair Light is a great choice if you have rosacea. With a blend of nourishing plant extracts to lock in hydration, the moisturiser boasts a grease-free finish, with 92% of women reporting their skin didn't feel oily after use*.
British Borage Oil and Avocado ensure 72 hours of hydration without disrupting the skin's natural balance. The botanical Echinacea is also included to help calm the discomfort of sensitive skin,*From a user trial of 100 participants after four weeks of use.
Key Features
Suitable for vegetarians.
Contains Vitamin E.
Contains moisture-boosting ingredients.
Use at night.
Cruelty-Free.
When your skin is irritated and aggravated, you will most likely be looking for something to help relieve the tightness or soreness. The Liz Earle Calming Botanical Drops are a nourishing addition to any skincare routine as they provide lasting comfort throughout the day.
The lightweight water-based liquid will not clog your pores and added British Silver Birch and Giant Hyssop work together to reduce redness and even out your skin tone to create a brighter, more radiant glow.*From a user trial of 109 participants.
Key Features
89% of women reported calmness across their face after use*.
The product is housed in a bottle with a handy pipette. It is easy to dispense just a few drops to ensure no product is wasted.
Suitable for vegetarians.
Cruelty-Free.
Help repair your skin with this versatile 2-in-1 mask and treatment. The Liz Earle Cica Restore Skin Paste helps to maintain hydration for up to 48 hours.
Ideal for occasions when your rosacea has flared up, Centella Asiatica (CICA) is a powerful ingredient famous for its anti-bacterial and anti-inflammatory properties to help combat irritation and redness. The addition of essential fatty acids helps strengthen the skin's natural barriers, restoring elasticity and encouraging repair.
Key Features
Contains skin clarifying ingredients Wild Plum and Bilberry.
Helps to revitalise skin.
Cruelty-Free.
No Liz Earle skincare guide would be complete without including Liz Earle's most well-known award-winning product - Liz Earle Cleanse & Polish.
This indulgent cleansing cream is excellent at removing stubborn makeup, but it is also incredibly soothing to your skin. Use Cleanse & Polish to remove pore-clogging impurities. The inclusion of moisturising cocoa butter helps soften your skin, while a botanical blend of rosemary, chamomile and eucalyptus helps transport you to a spa-like experience.
Key Features
Suitable for vegetarians.
Cruelty-Free.
Use day and night.
If you are hoping to add some new products into your skincare routine or completely overhaul your bathroom cabinet, we recommend adding one or two products at a time to give your sensitive skin the chance to adjust. It is also wise to avoid products that include overstimulating ingredients such as tea tree oil and witch hazel.
We recommended speaking to a medical professional if you have any concerns or questions about how best to treat and manage Rosacea.
Discover our helpful guide on managing rosacea if you'd like further advice on how to support your rosacea-prone skin.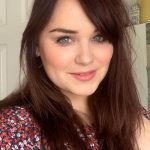 I've been writing about hair and beauty for over 10 years. I am a collector of vintage perfume and my go-to look always includes a bold pink lip! For more, visit https://www.goodgollymisshollie.co.uk