It can be easy for hair to fall a little flat but we've asked the experts at TIGI to give us some tips for giving hair a little va-va-voom.
Philip Downing is the UK Creative and Education Director for TIGI, leading education sessions for TIGI stylists and hairdressers all over the country. If there is something you need to know about hair, he is the man to ask.
How to Get Volumised Hair
The best process for creating Volume is to focus on working from wet to dry, as always starting with the foundations of cleanse & conditioning.
TIGI Bedhead Fully Loaded Shampoo & Conditioner helps to create volume by swelling the hair fibres and creating friction, which helps to give hair an instant plump feeling while building support & texture.
Styling is key. Add a volume booster like TIGI Bed Head Big Head from roots to ends on wet hair. It is recommended to comb the hair through after to make sure of even distribution through the hair.
Start to power dry the hair, focussing on the roots and blasting hair in the opposite direction to which it naturally falls; this helps to create root lift.
Then use a large round brush to create root lift and movement throughout the ends; wrap the hair around the brush and leave to cool.
To finish, spray TIGI Headrush throughout the hair for added shine & separation; an extra tip is to use the cold setting of the hairdryer and blast through your hair for added volume & separation
Finally, for added hold use a hairspray like the TIGI Bed Head Full Of It Volume Finishing Spray.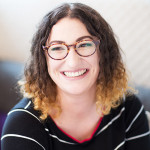 Major fan of scented candles, Make Up brushes and Highlighter. I'm always on the hunt for those Holy Grail products and my dressing table is covered in more beauty products than I like to admit. As an adopted Northerner originally from Brighton, I spend most my days wondering what all this rain is about. My hair isn't grateful for the move. Currently loving:
NIOD Photography Fluid