If you're not frequently reminded of your former beauty mishaps by the social media 'memory' feature (thanks, Facebook), you'll no doubt still be reeling from the noughties 'concealer lips' phase. But while millennial beauty trends may be having a revival, the experts are here to make beauty blunders a thing of the past and give us top marks in the hacks we wish we'd have learned earlier... 
Most of us are guilty of reaching for the wipes to remove our makeup after a long day, but according to Sophie Farmer, product brand manager at Garnier Skincare, switching to Micellar water "allows you to remove makeup, with the additional benefit of deep cleansing the skin by drawing out dirt, oil and pollution." But it's just water? You might say. Actually, "Micellar looks like water from outside the bottle, but inside it's so much more," explains Sophie. "Micellar contains 'micelles', tiny ball-shaped clusters made of molecules of oil called surfactants. When they meet other oils, such as oils or make-up on your skin, they draw them up like a magnet, gently removing impurities."  
What's more? Micellar water is a planet-friendly alternative to traditional wipes. Sophie recommends applying it with a reusable cotton eco pad to help reduce daily waste from cleansing.
SPF isn't just for summer
The days of being coated in thick, tacky suncream are thankfully behind us, as more kind-to-skin formulas with high levels of UV protection become accessible. But did you know that skin can be affected by the sun's harmful rays, even during the cooler months? "UVA rays are present in light and therefore, regardless of the climate, they are a year-round skin damager," explains Adele O'Donoghue, head of education at Ultrasun. "UVA penetrates cloud and glass and impacts cumulatively beneath the skin's surface. Think UV "A" for ageing," she says. 
To minimise early onset of ageing, Adele advises applying SPF to "any area of your face or body that that is exposed to sunlight. Daily face SPF is crucial, so it's important to find one that's comfortable and works with your regime." Her top tip? "Apply SPF before your makeup to ensure you are protected."
Glow girl Lottie Tomlinson, officially known as founder of tanning brand Tanologist, reveals the secret to more effective tanning results is by keeping skin hydrated and incorporating self-tan drops into your typical bodycare routine. "Moisturise every day and avoid anything that might dry your skin out or cause your tan to fade faster, like very hot water, chlorine in swimming pools and strong fragrance & acids in skincare," says Lottie. "I typically do a full tan once a week then keep it topped up between applications by adding some self-tan drops to my body lotion – this is such a good way to maintain your tan as well as keep your skin super hydrated, which is the key to long-lasting results."
If you're just entering the world of falsies, save the battle with strip lashes by reaching for individual lashes instead. Coined "falsies in a flash" by Meagan Betke, global marketing manager at KISS, individual lashes are "super for beginners", can be worn "under your natural lashes (not above them), are super easy to apply, reusable up to 3 times <<and>> wearable for a day or up to 10 days." The result? "As beautiful, comfortable and realistic-looking as lash extensions –at a fraction of the time!" says Meagan.
Add a mask to your haircare routine
Like your skin, it's important to give your hair the TLC it deserves, meaning a simple 'wash and go' won't quite give you the same results that you can expect to see from a masking treatment. "Unlike shampoos, hair masks have the ability to go deeper into the hair, protecting, strengthening, improving its elasticity and adding natural shine," explains Andrea Da Costa, training manager at Christophe Robin. "Depending on your hair and scalp condition, you can apply a hair mask every 2-3 days, once a week or once every couple of weeks." Andrea's hair masking hack? "The key to an optimal result is to rinse the treatment thoroughly to avoid product build-up on the hair and scalp."
From brightening serums to body-building mascaras, meet the grade-A beauty buys that will make you top of the class...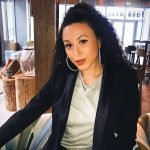 As a beauty obsessive, I'm always trialling and testing new, exciting brands and product discoveries. With over 6 years' experience in beauty writing, including freelancing on the Net-A-Porter beauty desk, I have lots of useful beauty hacks, tips and tricks to share. I'm constantly seeking the latest hair products to make my curls ultra-bouncy and defined. The Cantu Coconut Curling Creme is my Holy Grail! My lipstick collection is always expanding – and my favourite lip product of the moment has to be a nude lipgloss for the ultimate everyday look.