It's fair to say by now that bushy brows are here to stay. Brushed up, fluffy brows have become the norm, with brow serums and pomades in high demand. But more recently, as seen on TikTok, we want results that last, aka perfectly preened eyebrows that don't require going back to the salon every few weeks. The answer to all our brow prayers? Brow Lamination.
What is Brow Lamination?
First practised in Russia, brow lamination is a semi-permanent technique that positions each individual strand of hair for the ultimate full, fluffy, on-point brows. The process starts with a cream brushed onto the brows that breaks down the hairs' structure to make them easier to shape. They are then finely brushed and trimmed into the exact desired shape and a laminating solution is applied to re-build the bonds in the hairs and lock them into place for up to eight weeks! This is followed by any further treatment, such as tinting, and finished with a moisturising oil to soothe the skin and nourish the brows. The technique is ideal for anyone with disorderly bushy brows that need securing into place, as well as for thinning brows or brows with gaps as the hair can be re-positioned to fill in the gaps and give an illusion of a fuller eyebrow.
How to get the look at home
With prices ranging up to £55 and top ups needed every 6-8 weeks, brown lamination doesn't come cheap. As lamination solutions can also be harsh on the skin it's good to go natural once in a while. This doesn't have to mean giving up your perfectly groomed brows; we've put together the ultimate at home how-to for getting that perfectly positioned look at home.
Step 1: Nourish the brows
The best kind of brows are healthy brows. Use a nourishing brow serum or oil to strengthen the hairs and encourage growth for fuller looking brows for you to work with.
Step 2: Tweeze and Trim
Tidy up rogue hairs and over grown strands to make sure that you're brows are consistent and symmetrical. Use a good quality tweezer like the Tweezerman Slant Tweezer, crafted with a slanted tip to ensure even the shortest hairs are gripped.
Step 3: Brush up
Brush the hairs upwards into your desired shape and curve. Move the spoolie from side to side slightly whilst brushing upwards to make sure you capture each strand to move them into place and straighten them out fully. You may want to go back to step two if any out-lying hairs become visible at this point. If you are using a brow soap, such as the West Barn Co Soap Brows®, wet the formula with a setting spray to make a paste; this will be easier to apply and will hold your brows in shape for longer.
Top tip: make sure your spoolie is clean before starting to brush your brows. This will prevent clumping and will allow you to create a more defined shape more easily.
Step 4: Colour and Fill
Using a colour that closely matches your hair colour, go over your already neatly brushed brows with a brow wand or pencil to give the hairs a more defined, fuller look. Use the product in the same upward, hair like strokes to achieve thicker looking hairs and to really lock the brows into shape for a longer lasting effect.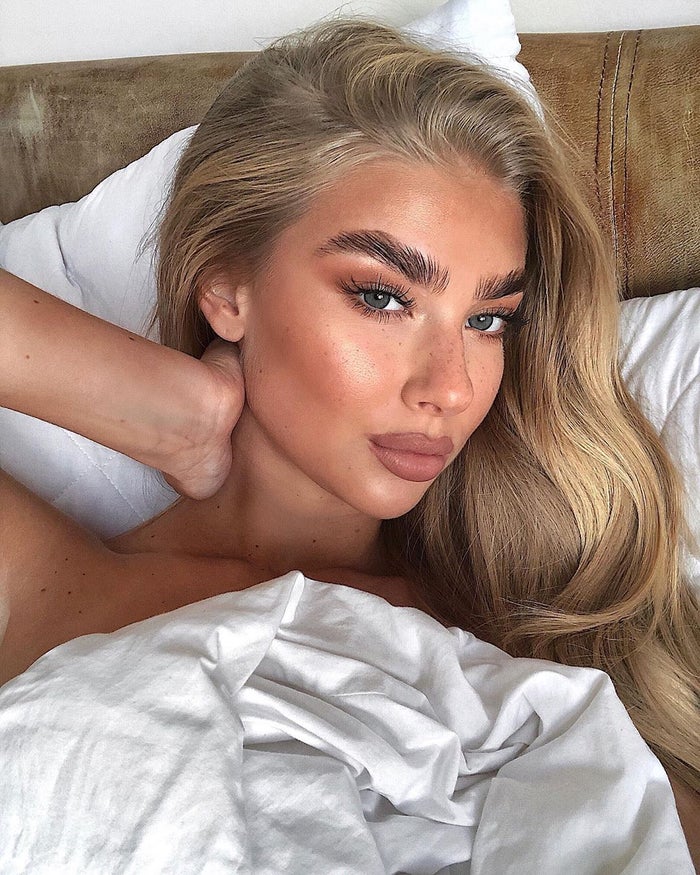 @jesshunt2 is wearing the Anastasia Beverly Hills Dipbrow Pomade in shade soft brown.
Step 5: Lock it down
Use a clear brow gel to lock everything down and give a shinier, healthy look. Either secure your colour using the gel over the top, or if you have a thicker brow naturally, use the clear gel alone to lock the brows into shape fully.
Working with brands at LOOKFANTASTIC for over two years I have developed my knowledge of all things beauty from key skincare concerns to niche makeup tricks and haircare hacks. I have a major passion for finding effective solutions that are easily accessible to everyone so that we can all achieve our best, glowing complexion.