The Sarah Chapman Skinesis Facialift enables you to replicate a professional facial massage from the comfort of your own home. The Facialift applies a precision massage technique that promotes the flow of nutrients and oxygen to your skin to achieve a beautiful, healthy glow.
What are the benefits of a facial massage?
A facial massage can offer a range of tension busting and glow-inducing benefits. When you incorporate a facial massage into your everyday skincare routine, you can help to relax your facial muscles after a stressful day whilst supporting your skin to appear plumper, dewier and brighter.
What are the benefits of using the Sarah Chapman Facialift?
Suitable for all skin types, this groundbreaking facial massage tool has a range of benefits.
Helps release muscular tension, particularly in the jaw area.

Encourages blood flow to the face bringing a glow to the skin.

Helps decrease puffiness through targeted lymphatic drainage.

Regular use helps prevent jawline breakouts.
The Skinesis Facialist was created to replicate the much sought-after facial massage techniques used in Sarah Chapman's London clinic.
Available with eight massage heads and 48 nodules that gently reshape and refine the skin, the Facialift drains toxins, relieves tension, reduces puffiness and promotes blood flow to the face. After using the Skinesis Facialift your skin will be visibly plumper, firmer and dewier.
We recommend using the Sarah Chapman Skinesis Facialift with the Sarah Chapman Skinesis Ultimate Cleanse to enhance your skin's natural radiance and extra vitality to your skin.
How to use Sarah Chapman Facialift?
Follow the simple steps below to get the best out of your at-home facial massage. If you have specific skin conditions or particularly fragile skin, we recommend consulting your doctor before use.
Top Tip: We recommend using your Facialift regularly for the best results and repeating each movement six times.
Step 1:
Push and roll the Facialift outwards from your chin towards your ears allowing the wishbone to separate on each side of your jaw.
Step 2:
Push and roll either side of the neck, front to back.
Step 3:
Hold the rollers together and use the flat disc tapper to tap all over the face to plump and increase blood flow.
Take the lead from various savvy skincare lovers and try the Sarah Chapman Skinesis Facialift.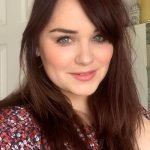 I've been writing about hair and beauty for over 10 years. I am a collector of vintage perfume and my go-to look always includes a bold pink lip! For more, visit https://www.goodgollymisshollie.co.uk