The LFXJURLIQUE Beauty Box is filled with a gorgeous selection of 6 beauty products. These include a Hand Cream, Facial Mist, Cleanser, Serum, Moisturiser and a drawstring bag to help keep all your products together.
With a value of over £80, and a cost price of £40, these are limited and exclusive boxes which are perfect for summer. Plus, one lucky customer will get the chance to win a Jurlique beauty bundle worth over £150 in their box!
Jurlique believe your skin care routine should do more than simply nourish your skin. It should also soothe your soul. That's why they designed the Jurlique ritual in the special edition LFXJURLIQUE Beauty Box to nurture you inside and out. As you gently warm and press each product into your skin, the living energy and uplifting aromas released, help you reconnect to nature.
The Jurlique products are designed to not only give you radiant, healthy skin, but also the vital sense of well-being that comes from being connected to nature, the people you care about – and yourself.
"We wanted to empower our customers. That's why we created the Jurlique ritual. Because beauty is something which comes from within – feeling good about yourself, being confident." – Ulrike Klein, co-founder of Jurlique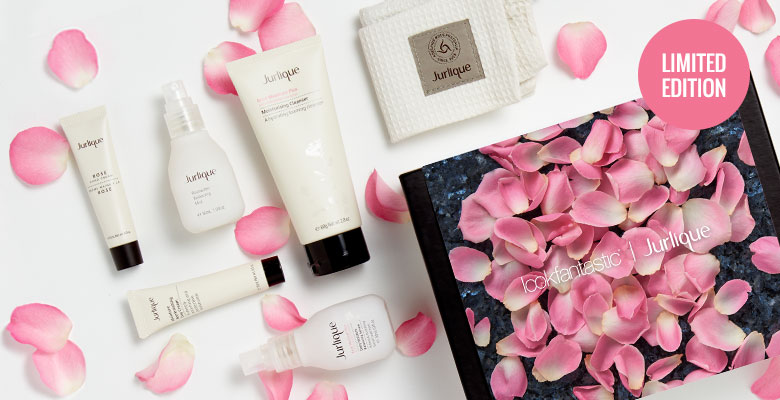 Get your skin in order with these easy steps and gorgeous products from the exclusive LFXJURLQUE Beauty Box.
Step 1: Cleanse (Rose Moisture Plus Moisturising Cleanser)
The Jurlique ritual begins with their unique approach to cleansing, which goes beyond removing surface impurities to begin the re-connection process. As you breathe deeply and enjoy the soothing aroma, you can feel yourself start to relax.
How to use: Gently lather a small amount between moist hands and massage soft foam over face. Avoid the eye area. Rinse thoroughly.