We have been meeting powerful, inspiring women all month and we are so excited that today we get to talk to the incredible Sylvie Chantecaille, founder of the eponymous luxury skincare and makeup brand Chantecaille.
We've talked about the brand before, but they are all about powerful, beautiful formulas and Sylvie is the powerhouse behind the whole brand. Here is what she has to say about the beauty industry and her experiences so far.
A Q&A with Sylvie Chantecaille, Founder of Chantecaille
Q

How did you begin your career in the beauty industry?

A

After I moved to New York, I started my first company with my friend Diane von Furstenberg. That was the first makeup, skincare, and fragrance company, and I was 27 at the time. Four years later I was hired by the Lauder family to create a new company for a different generation. That became Prescriptives. Fast forward 18 years later, and as all women approaching 50 do, I decided I wanted to do something for myself. With a deep knowledge in product, and a very personal one In homeopathy, Chinese herbs and medicine, I decided to create the purest product of high quality based on flowers and plants. I removed of all the formulas the ingredients that could damage the immune system. Creating products for women which can support them in their daily life has always been my main interest.

Q

What inspired you to create your brand?

A

Health. Knowing that I knew more about product than most people in the industry. I was obsessed with quality and really cared about women. I knew how to create great products and always felt that the most important thing in a brand should be the quality of the products— not the advertising.

Q

How do you begin your day with a positive attitude?

A

A good breakfast in bed. Then I'm in a really good mood! I need to concentrate and feel centered so I can look at everything in an extremely positive way which is why I definitely never watch TV in the morning. It brings my energy down.

Q

What has been the defining moment in your career?

A

There have been so many. Moving from Paris to New York made me feel like I could do anything on my own. Looking at women in Paris on the bus, in New York on the streets, in Tokyo on the metro, learning the differences and seeing all of their unique beauty was a defining moment in my career. Creating Prescriptives was huge. Another was having retailers offer me every one of their doors when I started my own brand.

Q

What beauty product is your source of power?

A

Our

Future Skin Foundation

and our

Flower Harmonizing Cream

are major for us. Future Skin is still the best foundation on the market 18 years later. The Harmonizing Cream does everything— it's not overly expensive and I don't know skin that can resist it!

Q

What advice do you have for women starting out their careers?

A

Be open, be nice, and work hard.

Q

What future ventures are in the pipeline?

A

You mean our Bébé line!?

Q

What, for you, is the best thing about being a woman?

A

You can do everything right now! We are very good at multitasking. We are incredibly efficient, we can keep our eyes on the big picture and get the small tasks done at the same time.

Q

Who is your female role model?

A

The Queen of England! In spite of the incredibly hard job she's had for a long time, she's never lost her sense of humor.

Q

What advice would you give your 20 year old self?

A

Don't be so critical of yourself.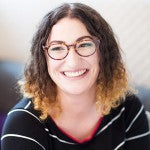 Major fan of scented candles, Make Up brushes and Highlighter. I'm always on the hunt for those Holy Grail products and my dressing table is covered in more beauty products than I like to admit. As an adopted Northerner originally from Brighton, I spend most my days wondering what all this rain is about. My hair isn't grateful for the move. Currently loving:
NIOD Photography Fluid