To celebrate National Lipstick Day on the 29th of July, we have created a quiz to help you find your perfect lipstick finish. Will you be a gloss girl or love the long-lasting finish of a matte lipstick? Find out exclusively on the lookfantastic beauty blog.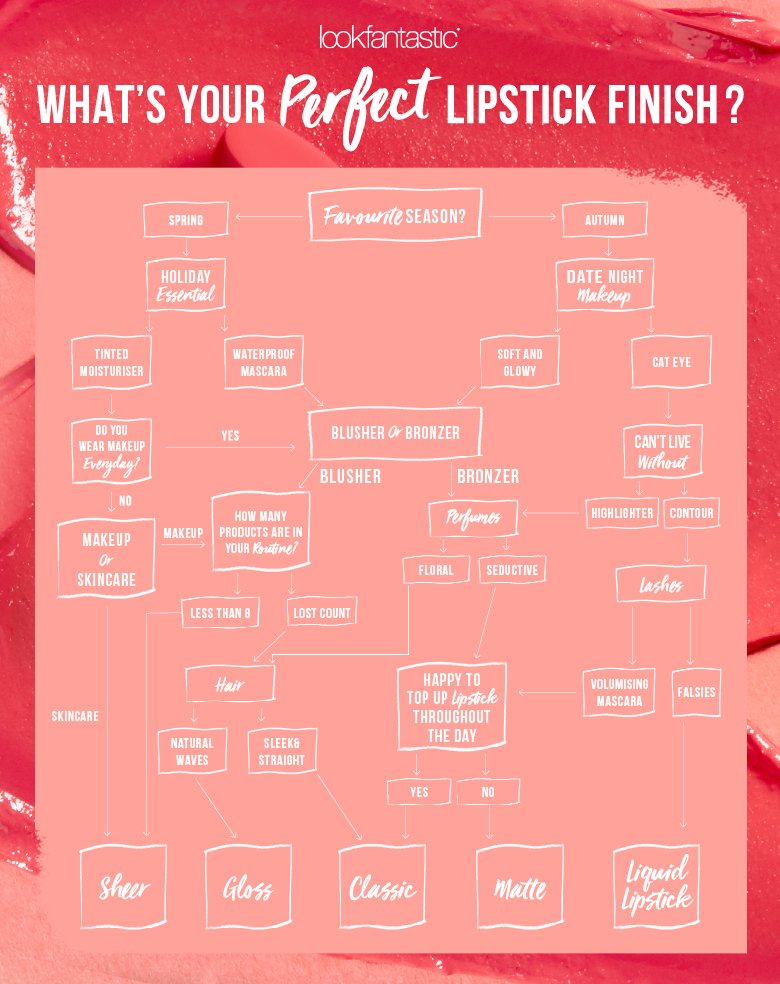 What's your perfect lipstick match?
Now you know your perfect lipstick finish, discover the product we recommend just for you on National Lipstick Day.
Sheer
Hydrating and moisturising with a beautiful satin finish, Burt's Bees Lipsticks are the perfect sheer wash of colour for those who prefer a more natural look. Enriched with vitamin E and raspberry seed oils, the conditioning formula can be topped up effortlessly throughout the day with no need for a mirror.
Shade we love: Blush Basin
Gloss
So silky and nourishing, the NYX Professional Makeup #THISISEVERYTHING Lip Oil leaves a divine high shine finish on your lips and is the perfect product for gloss lovers. Not at all sticky yet leaving a juicy finish, it can be worn alone or on top of other lipsticks to add a glistening shine.
Classic
Not matte, not shiny but just the perfect satin finish, a classic lipstick is the perfect go-to formula to complete any makeup look for any occasion. Infused with argan and avocado oils for comfortable wear, the INIKA Vegan Lipstick is so comfortable to wear, applies smoothly and lasts beautifully on the lips.
Shade we love: Pink Poppy
Matte
With a velvety matte finish which looks so chic, Illamasqua Nude Collection Antimatter Lipstick leaves rich, pigmented colour on your lips in a single sweep. Not at all drying, the gorgeous matte lipstick glides on effortlessly and lasts beautifully on your lips for a kiss-proof finish.
Shade we love: Seren
Liquid Lipstick
Ultra-smooth with a whipped-like texture, Revlon Ultra HD Matte Lip Mousse is the ultimate lipstick for someone who doesn't want to reapply throughout the day. Blended with micro-fine mattifying powders, the smudge-proof formula looks just as perfect hours later as when first applied.
Shade we love: Spice
What's your perfect lipstick shade?
Now you know your perfect texture, discover your dream shade from our selection of the most classic lipstick hues of all time.
RED
Always sure to make a statement, a red lipstick instantly transforms any makeup look. A true red will add a touch of glamour to any occasion and is a must-have in every single makeup collection. Our favourite is the Yves Saint Laurent Rouge Pur Couture The Slim Lipstick - 1 Rouge Extravagant.
NUDE
Perfect for every day and every look, no one should be without their perfect nude lipstick. With so many hues and undertones, you are sure to be in love once your find the perfect nude for your skin tone. Wear with simple makeup looks or pair with a bold eye for a chic, glamorous look. Our favourite is the Burberry Liquid Velvet Lipstick - 3 Nude.
CORAL
The colour of every single summer, a coral lipstick instantly lifts any makeup look and adds a fun touch to any look you wish to create. Whether in a matte or a satin formulation, it brightens the complexion and perks up your skin tone for a summer-ready, ultra-pretty look. We're loving is the Bobbi Brown Luxe Lip Color - Retro Coral.
PINK
Ultra-feminine and playful, a pink lip can be worn both day and night depending on its intensity and adds a beautiful finishing touch to your makeup look. From subtle soft hues to bold fuchsia shades which are sure to make a statement, we're loving pink lipsticks this summer. Our favourite for everyday wear is the Estée Lauder Pure Color Envy - Nude Mood.
DEEP
A deep, vampy hue can add so much to your makeup look in a single swipe of colour. Rich and intense, deep lipsticks are the perfect night time alternative to red and come into their own in the autumn and winter months. Our all time, undisputed favourite is MAC Diva, a sultry, matte plum.

Our team of beauty experts cover everything from makeup to skincare, picking out the most effective products from the best brands and latest trends. Stay up to date on everything beauty with the LOOKFANTASTIC blog, and find all your essentials in one place.