The Matrix Total Results collections are meant to be specially designed for different hair types, containing all the haircare and styling products you need for gorgeous hair. I haven't tried Matrix products before so I was excited to put the Curl Please range to the test.
What Is My Hair Type?
What Does The Range Do?
The Curl Please range is designed to control frizz and add shine. All of the products contain nourishing Jojoba Seed Oil and Wheat Protein to give strength and moisture to the hair. The range includes a shampoo, conditioner and styling lotion, which can be bought individually or as a bundle all together.
Trying Out the Curl Please Range
On first impressions, the range does feel like a salon brand: it looks quite technical and results focussed. These definitely stand out in my bathroom with their bright green colour but I do quite like the simple packaging. I also like that it is easy to see the difference between the shampoo and conditioner; a small touch but it can make quite a difference when you're in a rush in the morning!
On giving them all a sniff, the Curl Please range smelt as I expected from the packaging: fresh and green, a bit like cut grass! All 3 products smell the same and it is quite a refreshing, revitalising scent, which makes a change from the usual sweet and creamy fragrances that many curly ranges stick to.
But what about using them? What were the results for me?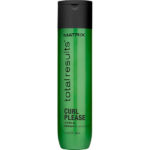 1.
Matrix Total Results Curl Please Shampoo
The shampoo is really nice. It made a thick and rich lather and I didn't need to use much. For my shoulder length hair I needed about a 10p size amount; considering the price point, I think this makes it extra good value. The formula is creamy but not oily. I like that it struck the balance between leaving my hair feeling clean, free from the heavy film some very rich shampoos can leave, whilst still leaving my hair manageable and not too dry.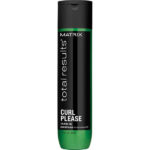 2.
Matrix Total Results Curl Please Conditioner
The conditioner was again creamy but not oily or heavy. I did need to use more conditioner than I did shampoo (if anyone can ever finish both at the same time, they are using magic!), but it was still very effective. I used about a 50p size amount to work through all my hair. For me, conditioners are all about how well they detangle. I don't brush my hair when it is dry so I really comb through when I wash it. This one detangled my hair fairly easily, getting rid of most knots with a few sweeps of my comb. I was also pleased that it rinsed out well, leaving my hair feeling light and nourished.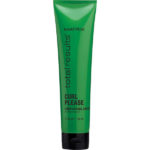 3.
Matrix Total Results Curl Please Contouring Lotion
The Contouring Lotion is a definite lotion in texture. Like the shampoo and conditioner, it is creamy without being too heavy. I towel dried my hair before applying this, twisting my curls for some extra shape and then leaving it to dry naturally. For me, this didn't have quite enough hold. It left my fine hair a little fluffy, but it did dry without leaving my hair crunchy or greasy. I personally would combine this with a stronger hold product, like a mousse, for more definition. That said, it worked really well over dry hair for a frizz-fighting touch-up between washes, thanks to the lightweight finish.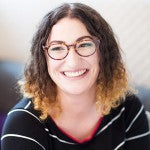 Major fan of scented candles, Make Up brushes and Highlighter. I'm always on the hunt for those Holy Grail products and my dressing table is covered in more beauty products than I like to admit. As an adopted Northerner originally from Brighton, I spend most my days wondering what all this rain is about. My hair isn't grateful for the move. Currently loving:
NIOD Photography Fluid