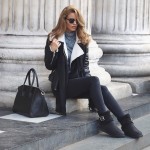 1.
<a href="http://www.nadaadelle.com/">Nada Adelle</a>
I've always been heavily influenced by strong women who have broken the mould and not been afraid to fight for causes that have changed the world, even if it meant standing alone in what they believe in. Figures such as Kathleen Cleaver or Angelina Jolie are good examples of that for me. They show that women can be both beautiful and incredibly smart. My ambition is to build a life that is completely my own vision. I'm a big dreamer. Individuals who believe and achieve that anything is possible inspire and motivate me. I'm a real girly girl. I have ALWAYS said I love being a woman. If it isn't playing dress up, inviting my girlfriends round to do each other's make up or basking in beautifully scented products... you will find me doing something else pretty and pink. Plus, the fact that we as women can give life is obviously up there. I would LOVE to be a mother one day, a very girly one at that!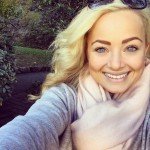 2.
<a href="https://www.instagram.com/clean_eating_alice">Alice Liveing</a>
International Women's Day provides us with the perfect opportunity to celebrate what it is to be a woman. Growing up I was always inspired by strong, powerful women, women who knew their worth, and who fought hard to gain an equal platform with their male counterparts. My godmother,
Dame Carolyn McCall
has shown me that no obstacle can deter you from success if you set your mind to it and she continues to be one of the most inspirational people that I look up to. I find myself in a very masculine environment on an almost daily basis entering the weights section in the gym. For me, it is particularly important to maintain my femininity in this situation and dispel any preconceived ideas that women shouldn't lift weights. Whilst a full face of make up isn't something I wear to the gym, I am not the type to go totally bare faced day to day either, sometimes coming from or heading to meetings before and after. I find using a good lick of
Clinique's waterproof mascara
and a bit of
Estée Lauder bronzer
give me an added glow that ensures I feel great both inside and out whilst working out.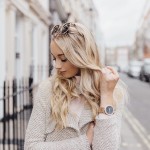 3.
<a href="http://www.fashionmumblr.com/">Josephine Fear</a>
One of the women that most inspires me is Victoria Beckham, I really admire the way she has created such a powerful and admirable brand for herself. Completely re-branding herself from pop star to international fashion designer is no easy feat, but Victoria did so with grace and honesty. My ambition for this year is to increase the quality and quantity of my work, on my blog and YouTube channel, and continue providing content that my readers and viewers love. I've even started to get some requests to do meet-ups, so I'd love to do something like that this year. I hope to travel more and visit friends across the world; I already have trips planned to Hong Kong and Australia to visit friends that have moved abroad! I am motivated by the urge to succeed; I've always been very driven, and want to be able to be independent both financially and mentally. I can't deny that I am motivated by nice things - designer products, nice holidays and a lovely home - these are the things that make me work as hard as I do!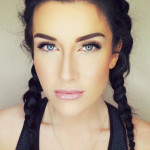 4.
<a href="https://www.youtube.com/user/RPierceMakeup">Rosanna Pierce</a>
The most influential woman to me has to be my mother. She's an amazing woman and has achieved brilliant things in her lifetime. She has also overcome a lot of difficult things and always comes out on top. She inspires me to become a better woman and if I can become half the woman she is today, then I'd be very proud. My ambitions have never been for a particular goal for example a specific job or house. It seems today everyone is more worried about what they will achieve in the future that they miss what's going on in the moment. My ambition has and will always be to just be a better woman than I was yesterday. I apply it to anything big or small, whether it's a small, everyday change or something bigger for the future. If you constantly compare yourself to Kim Kardashian, you will forever be disappointed because you will never be that woman. But you can always improve yourself and that's something you have control over. My motivation is my son, his smiles, his cuddles and his laughter motivates me to keep going even when I don't feel like I can. If my son can love me unconditionally (even in my comfy clothes with no makeup on) then so can I. If I can make him happy, that's all I can ask for.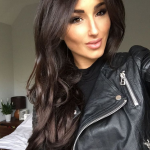 5.
<a href="http://www.superabs.co.uk/blog/">Abby Pell</a>
The two most important and influential women in my life are
my mum
and
my daughter
. I admire actresses and women with talent, but I'm more influenced by the people closest to me. My daughter inspires me every day and my mum made me who I am. I want to really spread a positive message to women to love and empower themselves and others. Fitness is my tool. So encouraging other girls to be fitter, healthier and happier means a lot to me. I spend most of my life in gym gear, with no make up on and my hair scraped back... but I love nothing more than a good pamper session or getting really dolled up for a night out, I love make up and face masks, and hair treatments. I've recently become obsessed with
essie
nail polish, love painting my nails.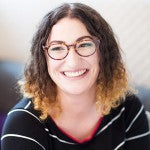 Major fan of scented candles, Make Up brushes and Highlighter. I'm always on the hunt for those Holy Grail products and my dressing table is covered in more beauty products than I like to admit. As an adopted Northerner originally from Brighton, I spend most my days wondering what all this rain is about. My hair isn't grateful for the move. Currently loving:
NIOD Photography Fluid