It's one of the most personal beauty rituals in our routines, applying our signature scent in the mornings is what sets us up for the day, and what really make you feel like 'you'. But how does perfume really work? How can you make a scent last all day? Should you be keeping your fragrances in the fridge? We asked CEO and Founder of sustainable fragrance brand Floral Street, Michelle Feeney, to answer all these questions and more. Plus, she gave us the inside scoop on her planet-friendly fragrance line.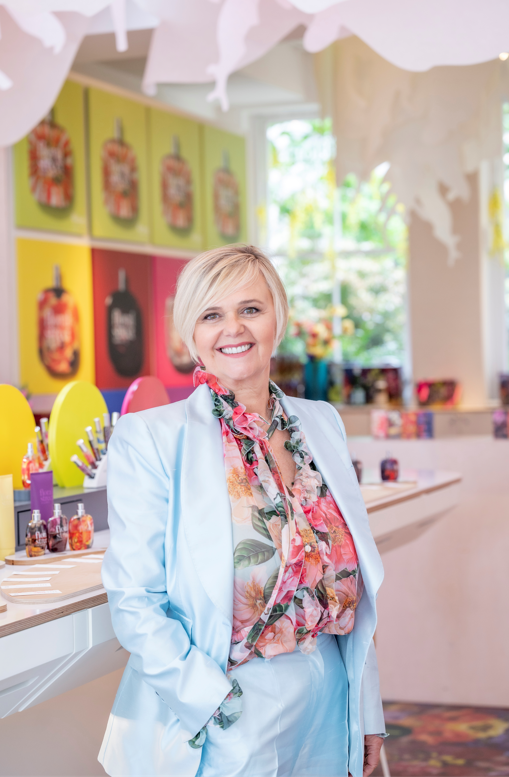 What's the story behind Floral Street?
One day I was walking through Covent Garden in London, I looked up at the 'Floral Street' sign and thought, wouldn't that be a great name for a fragrance brand!
I had built my career around being a visionary business leader creating and growing cult global beauty brands, such as MAC Cosmetics, Crème de la Mer and St Tropez, but now I wanted to do something different. I wanted to offer sustainable fine fragrance by one of the best noses in the world at an affordable price – because why shouldn't everyone smell good!
I wanted to offer sustainable fine fragrance by one of the best noses in the world at an affordable price
I launched Floral Street as an independent, 'clean' British fragrance brand because I wanted it to be a beacon for change. I wanted to challenge and stir the Beauty Industry and to give consumers the opportunity to make better ethical choices and bring beautiful sustainable fragrance into their lives.
We have core values of environmental consideration and a respect for nature, so the ingredients in our vegan perfumes are responsibly sourced and traceable from seed to scent. Our packaging is reusable, recyclable or biodegradable and we only purchase FSC certified carbon balanced paperboard. So, when you buy our products you know you are helping to protect the world's rainforests.
What makes Floral Street unique from other perfume brands on the market?
My vision was to help people become connoisseurs of fragrance, like you do of wine, gin or even chocolate!
We partner with Robertet, who are world leaders in sustainable, natural raw materials, so we know how our fragrance ingredients are sourced and even in some cases who actually picks them! Protecting the environment is their second nature and they have an unparalleled approach to ethical practices, supporting suppliers and communities globally.
Their Master Perfumer has created all our Floral Street fine fragrances using a combination of natural, synthetic and nature identical ingredients as these can often be more eco-friendly.
Which Floral Street Fragrance would you recommend for taking us through Christmas party season?
It has to be Chypre Sublime - our 'little black dress of fragrance'! It's a really glamourous scent that we've packed full of florals including Damask rose, violet and geranium, plus a hint of woods and patchouli. A few spritzes add the finishing touch to any Christmas party look!
But then for the morning after, Electric Rhubarb, with energizing bergamot is the perfect sparkling 'pick me up'!
Which Floral Street Fragrance will you be gifting to a loved one on Christmas Day?
I was so proud to be approached by the Van Gogh Museum, Amsterdam a few years ago to collaborate on our latest fragrance, Sunflower Pop. I was invited to their museum to choose any Vincent Van Gogh masterwork to be the inspiration for a sustainable scent and it just had to be the iconic Sunflowers masterpiece.
With it's expressive and vibrant ingredients of bergamot, vegan honey accord and a Bellini accord that brings a pop of optimism, it's the perfect gift and your little piece of fine art every single day!
What is your top tip for making your fragrance last all day?
Choose one that has a high percentage of perfume oil so it will really last. Eau de toilettes usually only contain about 5-10%, but our Floral Street fragrances are eau de parfums and boast a high 20%! Being luxury fine fragrance, this also means that you don't need to spritz as much so our beautifully designed floral bottles will last longer!
Personally, I keep my skin really moisturized which helps my fragrance to last and I like to spray a little on a scarf to keep the scent alive!!
Does rubbing your wrists together really 'break the scent?'
Perfume can be a delicate composition so rubbing your wrists together can 'bruise' the scent and it can sometimes actually change the way the fragrance smells. You just need to spritz and leave! Or you can spray onto your pulse points and as they warm, the fragrance will waft throughout the whole day!
What is the tell-tale sign that a perfume truly suits you?
When you feel it really expresses your mood and is a scented enhancement of your individual personality! And obviously the true sign is when others really compliment you.
What is your advice for someone who often gets headaches from their scents?
Scent is very personal, and it can affect us in different ways. When trying fragrances, take time to understand the different ingredients, how they stimulate your brain and how they make you feel.
When trying fragrances, take time to understand the different ingredients, how they stimulate your brain and how they make you feel
Choose perfumes that are fully regulated under the IFRA, The International Fragrance Association which means their materials are stringently regulated for usage, inclusion levels, and labelling of potential allergens.
We offer a Discovery Set which is a great way to sample perfumes before spending on a full-size bottle! It includes eight mini sprays that allow you to experience different perfumes to see how they evolve. It's an affordable way to try 'clean' fragrances to find the ones that suit you as an individual.
Myth or Fact: scents can positively affect our mood
Fact! Scent can really affect our moods and it can also help to boost our self-esteem. It has the power to inspire memories, reminding you instantly of a person, a trip, or a certain time in your life.
I have always been aware that fragrance has the ability to enhance or even alter how you feel so I launched Floral Street around just that! I created 'mood muses' for each of our perfumes which then visually stimulated our master perfumer, Jerome Epinette, to bring that mood to life with scent.
Scent can really affect our moods and it can also help to boost our self-esteem
I was initially inspired by the incredible diversity, energy, and style from the streets of London, but have since taken inspiration from other experiences and my travels. When I hiked across the Atacama Desert, I realised how uplifting it made me feel. I literally wanted to bottle that sunny and euphoric 'mood' which actually became our Arizona Bloom perfume.
We don't tell people they have to like a certain fragrance to feel better about themselves, we inspire our customers to choose scents based on how they want to be or feel that day. It's about a personal journey of scent discovery so we ask 'who will you be today' and match our fragrances to their individual moods.
Myth or Fact: storing perfume in the fridge will make it last longer?
Experts say that you can store your perfume in the fridge because by keeping it at a steady cool temperature preserves its components. However, I personally don't. I just keep mine out of sunlight and away from heat and it lasts a long time!
Shop the full floral street range on LOOKFANTASTIC now.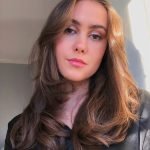 As someone with an affinity for all things beauty, discovering fantastic new products is my not-so-secret obsession. Over the years I've tried and tested a mountains worth of creams, serums and cleansers, finding some of my favourite 'holy-grail' products along the way. However, I'm always on the lookout for more ways to nourish my hair, perfect my dewy base, or enhance my skincare routine. Working as a beauty blogger for over 3 years, I've been lucky enough to collaborate personally with lots of amazing beauty brands including Christian Dior, The Body Shop and Dermalogica. I've used the Dermalogica special cleansing gel religiously since I first got it and their products are some of my ultimate skincare faves. When it comes to cosmetics, NARS Sheer Glow foundation is definitely my go-to - I live for a light, glowy base!