Bumble and Bumble are one of those brands that I've always seen around but never taken the plunge to try before. Until now, there hasn't really been a range quite right for my hair type but the launch of the Bumble and Bumble Bb. Curl range changes all of that. I've been trying out some of the products to see what I think.
What Is My Hair Type?
What Does the Range Do?
The Bb Curl range is all about matching the hair products to your curl type. I love this idea, because there are a lot of 'one product fits all' curl ranges out there and as someone with fine curly hair that can easily get weighed down and greasy, lots of them do not fit for me.
With a Sulphate-free shampoo for all curl types, a conditioner that can be used however you like and styling products to perfect every type of curl from from loose curls to tight coils, the range is all about finding your perfect curl recipe for the best results. The range declares that it is perfect "for an epic blend of control and chaos", so it is meant to give you curls with life and definition.
Trying Out the Bb Curl Range
My first impressions were definitely good. The packaging is just gorgeous with its bright watercolour print and they smell incredible. I also like how clear the information is on each product. You can easily see which product is best for which hair type. However, in the end it is all about how they perform on the hair. So what do I think?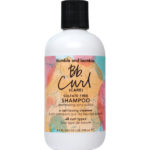 1.
Bb Curl Sulphate-Free Shampoo
I am always on the fence with Sulphate-free shampoos. I know they are meant to be better for curls, but some just do not leave my hair or scalp feeling clean. This one does a really good job though. It definitely needs working well into the hair but with a good massage the thick lotion transforms into a dense lather, which felt like it cleaned without stripping.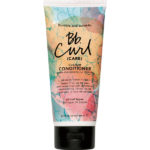 2.
Bb Curl Custom Conditioner
There are lots of curly hair tricks that come from the traditions of women of colour. Co-washing, where you use a conditioner to wash your hair and don't use a shampoo, is one of those that has become quite popular. The idea is that it doesn't strip the hair and keeps the curls really well hydrated. Technically, you can co-wash with any Silicone-free conditioner, but on using this I can see why they call it the Custom Conditioner- even with my fine hair it felt really nourishing but rinsed out beautifully clean. It detangled with next to no product (a miracle for me) and I have used it after shampoo and as a co-wash without it weighing my hair down.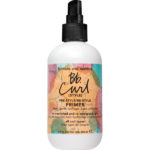 3.
Bb Curl Pre/Re Style Primer
This might be my favourite product from the range and I think it will have to make its way into my permanent hair routine. The Primer is meant to help define curls and help other products apply smoothly and evenly over the hair after washing. It is also meant to be used for refreshing curls in the days after you wash. Although I had never used any kind of 'Priming Spray' before but I adore this. The spray is lightweight and smells incredible. I love it for refreshing my curl as it has the perfect amount of moisture to reset squashed curls and enough product to defrizz without making hair feel too full of product.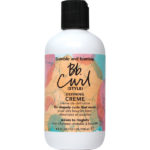 4.
Bb Curl Defining Creme
This is designed for waves to ringlets, to
add definition and moisture
. It is designed to be used from root to tip after the Primer. My curls are definitely ringlets so this is one of the products that can work for me. I found it a very thick creme and you do not need much of it to cover all your hair. It gave me very soft and defined curls but on the second day my roots did feel a little heavy. For me I think it would be
ideal on just the lengths
, with the
mousse
on the roots to keep volume and hold in my fine hair.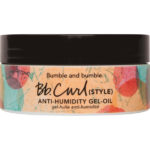 5.
Bb Curl Gel-Oil
This is the final product I tried out and it was one I was quite intrigued about. The texture is really unique, feeling a little slippy like an oil, but also a little bouncy, like a gel. This is meant for anything from ringlets right down to corkscrews. When my hair feels dryer, this feels incredible and gives amazing definition. If my hair isn't in need of the boost, then it is too heavy for me. Again, I prefer it through the ends than the roots, but it is one I'll be keeping in my cupboard for when my hair needs extra TLC.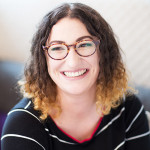 Major fan of scented candles, Make Up brushes and Highlighter. I'm always on the hunt for those Holy Grail products and my dressing table is covered in more beauty products than I like to admit. As an adopted Northerner originally from Brighton, I spend most my days wondering what all this rain is about. My hair isn't grateful for the move. Currently loving:
NIOD Photography Fluid