From breastfeeding dilemmas to pregnancy-safe skincare, midwife and TikTok personality, Sarah Pringle CNM (@midwifemama), answers your questions on motherhood.
Is all skincare safe to use during pregnancy?
"Not all skincare or skin procedures are safe during pregnancy. Avoiding chemical peels, cosmetic toxins or fillers is a general recommendation. Most topical skin care ingredients are safe during pregnancy, but tretinoin or other topical retinoids are not recommended."
LF loves...
What causes stretch marks? Can I minimise them?
"There are many factors such as a family history of stretch marks, weight gain during pregnancy, high birth weight or maternal age. Ensure you stay hydrated and moisturise, but remember sometimes even these interventions may not help."
LF loves...
I'm struggling to adjust to my post-partum body, do you have any advice?
"That's a very common feeling, but it's important to remember what amazing things your body has done! Eating well, adding cardiovascular activity, and then taking time for yourself can help you embrace your new you. Always remember to consult your GP or healthcare provider if you have any questions or concerns."
I'm feeling really tired during my pregnancy, is this normal?
"Fatigue or tiredness is a very common pregnancy symptom, especially in the first and last few weeks of pregnancy. Hormone changes and increased blood supply all take a lot of energy! Always consult a GP if you feel your symptoms are abnormal."
LF loves...
Why am I finding breastfeeding so painful? Do I have to carry on?
"Engorgement, the baby's latch, milk let-down (the release of milk), and blocked or infected ducts can all cause discomfort or even pain when breastfeeding. Talk to a lactation specialist to determine what is causing the pain."
"Remember you don't have to breastfeed if you don't want to. I will always believe that no matter how you feed your baby, fed is best."
LF loves...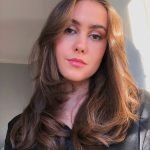 As someone with an affinity for all things beauty, discovering fantastic new products is my not-so-secret obsession. Over the years I've tried and tested a mountains worth of creams, serums and cleansers, finding some of my favourite 'holy-grail' products along the way. However, I'm always on the lookout for more ways to nourish my hair, perfect my dewy base, or enhance my skincare routine. Working as a beauty blogger for over 3 years, I've been lucky enough to collaborate personally with lots of amazing beauty brands including Christian Dior, The Body Shop and Dermalogica. I've used the Dermalogica special cleansing gel religiously since I first got it and their products are some of my ultimate skincare faves. When it comes to cosmetics, NARS Sheer Glow foundation is definitely my go-to - I live for a light, glowy base!