Since the eco-boom a few years ago and the current craze for all things natural, the shelves of the beauty aisles are literally overflowing with eco-friendly skincare and cosmetics brands. With so much to choose from it's often hard as a consumer to know which to invest in and which products really work.
About Dr Hauschka
Conscious to go green and clear up my skin I've tried and tested most skincare ranges from every budget over the years, there are few brands that have stood out and Dr.Hauschka is one of them. Dr.Hauschka is innovative and ethical enough to offer try before you buy kits to the consumer which is a great way to test if the products are right for you before you splash the cash. Like many women I suffer from oily skin which often leads to breakouts so when I received the Dr Hauschka Clarifying Face Care Kit, I couldn't wait to start the routine.
Dr Hauschka Clarifying Face Care Kit
The kit comes in a small metal tin and contains six sample size products which will last around three weeks to help deep cleanse the skin, control oil levels and bring out the skins natural radiance. If I'm honest a few weeks isn't usually a great deal of time to fully review skincare products but the Dr.Hauschka range is so impressive that within a few days my skin was seeing results.
Cleansing Cream
This is a great cleanser, paired with a muslin cloth it removes all of the makeup clogged in my pores gently but thoroughly leaving my skin feeling refreshed and clean. Like all the products it does smell very medicinal but I've found the products that usually smell the worst tend to work the best.
Clarifying Toner
Formulated for oil prone skin the clarifying toner instantly shrinks pores and helps to regulate oil production in the skin. After a few weeks of using this miracle oil my skin is noticeably clearer, pores are refined and because of its soothing properties my skin is much more even in tone.
Normalising Day Oil
Applying a light oil to oily skin will slow down its oil production and help to normalise the condition. After a few weeks of continuously using the non-greasy formula my skin has significantly calmed down and less oil is being produced and my skin is much more manageable.
Facial Steam Bath
This deep cleansing treatment is to be used once a week as a more intense solution to unblock clogged pores and tackle the imbalance in oil levels. The steam bath is soothing and leaves your skin feeling wonderfully refreshed and gloriously clean.
Cleansing Clay Mask
Clay is known for its mattifying effect on the skin and Dr.Hauschka's weekly mask gave my skin instant results. My skin felt amazingly clean, tighter with my blackheads and pores appearing substantially reduced.
Rejuvenating Mask
This is a true wonder product for fighting the annoying scars and redness left behind by stubborn spots. The rejuvenating mask helps to accelerate the skins natural healing process producing amazingly clear skin, the marks of old spots are no more.
The Verdict
After sticking trying the  Dr Hauschka Clarifying Face Care Kit morning and night for a fortnight my skin has dramatically improved, rarely do skin care ranges work their magic so fast. My skin is visibly clearer, I have no spots, smaller pores and my skin tone is even for the first time. I'd gladly recommend this kit for anyone on the pursuit for perfect skin, the products are fantastic quality and the regime is your little at home spa, it is a great way to try before you buy.
My now nearly perfect skin thanks to Dr.Hauschka has even had me considering going out with little to no make-up on which trust me never happens. Maybe in six months time I won't even need foundation, fingers crossed.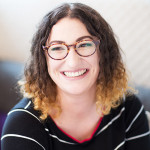 Major fan of scented candles, Make Up brushes and Highlighter. I'm always on the hunt for those Holy Grail products and my dressing table is covered in more beauty products than I like to admit. As an adopted Northerner originally from Brighton, I spend most my days wondering what all this rain is about. My hair isn't grateful for the move. Currently loving:
NIOD Photography Fluid