Did you know that women's tennis at Wimbledon has been going since 1884? That is well over a century of inspiring female tennis players, who have totally changed the perspective on women in sport. We've put together a list of 10 women who we think deserve to be known as Wimbledon icons.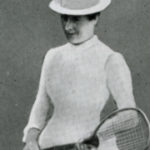 1.
Maud Watson
In 1884 Maud Watson was the first female Wimbledon champion, ever. At just 19, Maud played in her petticoats and white corsets at a time when women in sports were not encouraged or celebrated. Maud forged the path that over a century of female tennis players would follow, showing that women could succeed in sports and participate in competitions as well as men.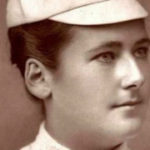 2.
Lottie Dod
Hailing from Merseyside, Lottie Dod played tennis all over England from the age of just 11. In 1887 she entered the Wimbledon Championships and became the youngest ever winner at just 15 years old. She still holds this record! Lottie was a true sportswoman. After her tennis career she was involved in winter sports like figure skating, mountaneering and curling as well as golf, field hockey and archery and continued to attend and watch Wimbledon well into her late 80s.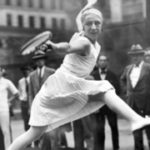 3.
Suzanne Lenglen
Suzanne Lenglen was the top female tennis player between 1914 and 1926. She held over 241 titles and was lauded by the press as a trendsetting athlete. Born in Paris, Lenglen won Wimbledon 6 times. She was the original tennis celebrity, known for entering the court in full makeup, fur coats and playing in shorter skirts and tighter tops than had ever been seen before, all on top of her tennis skills. There are trophies, statues and tennis courts in her name that stand as a legacy for her contribution to making women's tennis a popular game.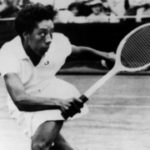 4.
Althea Gibson
In 1957, Althea Gibson became the first black woman to win Wimbledon and was awarded the trophy from the Queen of England. This was an absolutely momentous event considering the racial inequality at the time and it actually was another 15 years before another woman of colour would win a Grand Slam event. Althea was also the first black woman to appear on the cover of Sports Illustrated and Time magazines and along with her many achievements, Althea showed that minorities could compete at any level as successfully as white athletes.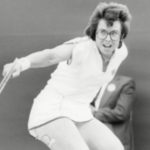 5.
Billie Jean King
Billie Jean King first started competing at Wimbledon in 1961 and won a total of 20 titles across the years. King was a powerful tennis player who in 1973 beat Bobby Riggs in the Battle of the Sexes match, showing women could compete against men. Since then, she has won 39 Grand Slam titles and has founded a number of women's sports organisations, including the Women's Tennis Association and the Women's Sports Foundation.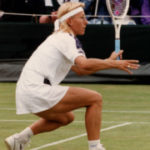 6.
Martina Navratilova
One of the most celebrated female tennis players of all time, Martina Navratilova competed at Wimbledon between 1973 and 2005. She won Wimbledon a total of 9 times and at one point held all 4 major Tennis titles: the Australian Open, the French Open, Wimbledon and the US Open. In addition to her incredible sporting achievements, Martina is known for her activism on issues like LGBT rights and freedom of speech. She is quite an amazing woman!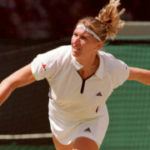 7.
Steffi Graff
Steffi Graff holds the record as the longest ranking number 1 tennis player, male or female. She was number 1 for 377 weeks and dominated women's tennis during the 80s and 90s. Steffi took the tennis courts by storm and in 1988 she won all 4 major tennis tournaments as well as gold in the Olympics - the first and only tennis player ever to do so. Steffi was known for her incredible talent on grass, clay and hard court, winning Grand Slams across all 3 surfaces. Across  the industry she is regarded as the best female tennis player of all time- a huge accolade.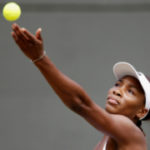 8.
Venus Williams
Venus has been a professional tennis player since the age of 14, and since then has been the world number 1 on 3 occasions. On top of her many medals and championships, Venus changed the face of women's tennis when she took a stand for gender equality, protesting unequal reward prizes for male and female tennis players at Wimbledon. Venus's arguments were supported by members of Parliament, the Women's Tennis Association and UNESCO and in 2007 Wimbledon changed its regulations to give the same prize money to men and women, with the French Open following a day later.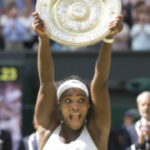 9.
Serena Williams
Ranked no 1 in women's singles tennis, Serena has been a powerful presence on the Wimbledon green since 1998. With 6 Wimbledon wins under her belt, Serena has given us some of the most nail-biting tennis matches of the last 2 decades, all accompanied with her signature stylish tennis gear. We aren't the only ones who love Serena and in 2015 she became the first black female athlete to have a solo Vogue cover. She is currently the world number 1 and is still the one to beat despite her long career.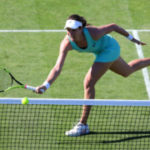 10.
Johanna Konta
After over a century of amazing female tennis players, there is a new generation of stars on the rise. Johanna Konta is already making waves and looks likely to give just as amazing a legacy as the others on this list. Aged just 25, Johanna is already in the top 20 singles rankings and has played some incredible matches against top tennis stars like Venus Williams. We'll be watching at Wimbledon to see what comes next for Johanna!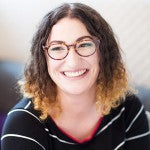 Major fan of scented candles, Make Up brushes and Highlighter. I'm always on the hunt for those Holy Grail products and my dressing table is covered in more beauty products than I like to admit. As an adopted Northerner originally from Brighton, I spend most my days wondering what all this rain is about. My hair isn't grateful for the move. Currently loving:
NIOD Photography Fluid