Say goodbye to tired-looking eyes with the Rio Eye Refresh. Using Peltier technology, the Eye Refresh features warming thermotherapy, which helps the absorption of the Contour Eye Serum into the dermal layer and stimulates an inflow of nutrients and oxygen. The treatment also incorporate cooling cryotherapy to quench and hydrate the skin, as well as locking in active ingredients.
Meanwhile, the Contour Eye Serum is formulated with an expert blend of vitamins to smooth fine lines and soothe and nourish your skin, helping to banish signs of ageing and fatigue.
The cooling action quenches the skin, helping lock in the active ingredients of the serum, containing Vitamin E, B5 and acetyl hexapeptide-8, which work to decrease the visible effects of aging on the delicate eye area.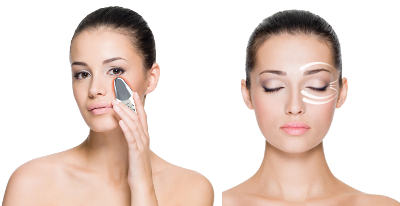 Rio Eye Refresh also includes Contour Eye Serum. With a high concentration of active ingredients including nourishing Vitamin E, B5 and acetyl hexapeptide-8 which research has shown this can help to reduce the appearance of fine lines. You'll feel the difference around your delicate eye area with smoother, moisturised and refreshed skin.
Eye Refresh has four recommended treatments: anti-ageing, pre-cleanse, tone & refresh, moisturising and pre-make up pep up, each designed to rejuvenate and refresh tired, stressed eyes, combat dark circles and puffiness and leave you looking and feeling great.
Directions for Use:
Ensure the unit is fully charged
Press and hold the power button to turn the unit on
The mode light will flash blue
When the blue light is on continuously, the device is ready for use
Choose your treatment
Both sides work at the same time: The thermotherapy side warms up and the cryotherapy side remains cool
The unit will take around 60 seconds to reach optimum temperature
The unit will turn off automatically after 12 minutes
Press and hold the power button to turn off at any time
Clean the head of the unit with a damp tissue after use
Please note:
When treating the eye keep the treatment head and serum at least 1cm away from the eyes.
Do NOT charge the unit in the bathroom.
If Contour Eye Serum is in contact with the eyes, do NOT rub.
Rinse with copious amounts of water or eye wash.
Do not use on cuts or broken skin.
For external use only