The Rio Rapid Heel Smoother will effectively remove calluses and rough skin, leaving your feet feeling soft and smooth. Quick and easy to use, it features two crystal tips which are ideal for the heels and toes, whilst the two rotation speed settings will allow you to tailor the treatment to your individual needs.
The large crystal tip removes dead skin cells, dry skin and calluses to make your skin smooth and is ideal for larger areas such as the heels, while the Small Crystal Tip works well on smaller areas such as the toes.- L.M.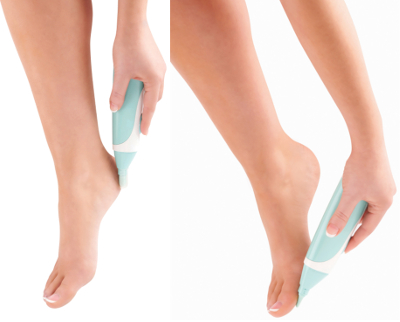 Features:
Rio Rapid Heel Smoother
2 speed settings
4400 rpm
2 crystal tips for the heels and toes
Fully portable
Removes calluses and rough skin
Directions for Use:

Simply click one of the tips into place.
Select the speed setting you require.
Work your way around the treatment area until you are done.
Precautions: Do not use on scars, rosacea, pustular or inflamed acne, abraded skin eczema, inflamed or diseased skin, or any other skin ailment. It is recommended that you consult adoctor if you are unsure