With Valentine's Day coming up, there are lots of us that might a have a special date night planned. We've already shared the makeup looks we love but if you want to know the real secret for how to get good skin, then it is all about the preparation. Uncover the skincare we swear by before a special night out.
What Gives you Good Skin?
When we say 'good skin', what we mean is skin that is well hydrated, has an even and smooth texture and glows with radiance.
Makeup and foundation can help fake good skin but really it all comes down to your skincare and lifestyle. Like Dr Harold Lancer says, it is all about what you eat, how much you sleep and how much stress you're under.
However, skincare can go a long way to helping your skin, leaving it prepped and ready for makeup; it is an essential even for expert makeup artists! Even models can need help to smooth and prep their skin. The key is looking for products that can help hydrate, clarify and smooth your skin.
The Best Skincare for Great Looking Skin
Getting ready for a special night is usually half the fun; a long shower, styling your hair and getting your skin ready for some special makeup.  If you want to know how to get good skin for that special night, then just follow all our tips and product recommendations:
The Week Before
It isn't just brides that should think about their skincare ahead of a big day. Even if you are usually a little haphazard with your skincare, getting into a good routine a week or so before your date should help battle concerns like dullness or blemishes.
Make sure to cleanse properly every night.

 A good cleansing routine might be basic but it so essential for keeping your skin healthy and happy. Try something like the new Omorovicza Moor Cream Cleanser to help melt away any makeup or dirt.

Try a Glycolic toner to boost your glow

. Liquid exfoliants like the cult Pixi Glow Tonic or the innovative Alpha H Liquid Gold help to revitalise and unclog your complexion. Apply to a cotton pad and sweep over the face after cleansing every other day.

Go for a targeted serum.

Serums might be a skincare step you don't usual bother with, but they are brilliant for intensive treatment. Which one to go for will depend on your skin's needs but the Vit C-30 Serum from The Hero Project is a great one to help brighten and protect the skin.
The Night Before
This is your moment to target any problems and inject your skin with some last minute moisture.
The Day Of
On the day, it is all about prepping your skin for makeup. You want it to feel hydrated, fresh and calm.
Pop on a hydrating mask.

When your skin is plump and hydrated, it always looks good. Try something like the STARSKIN Hydrating Coconut Bio-Cellulose Second Skin Face Mask and pat in any extra product into the skin once you're done.

Lock in moisture with a mist.

After your mask, make sure your skin stays soft and dewy with a facial mist. We love the Vitamin Hydrating Mist from First Aid Beauty, which contains great vitamins and antioxidants to protect your skin.

Try a skincare/makeup hybrid.

Finish everything off with a product that will work not only to seal in moisture but also help to smooth out and add radiance to your skin. The Hylamide Photography Foundation helps to blur and perfect your skin, so it will look its very best.
Now you and your perfect looking skin will be ready for anything! A killer red lip, smoky eyes, the best foundations; whatever look you go for, your skin won't let you down.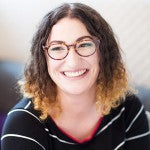 Major fan of scented candles, Make Up brushes and Highlighter. I'm always on the hunt for those Holy Grail products and my dressing table is covered in more beauty products than I like to admit. As an adopted Northerner originally from Brighton, I spend most my days wondering what all this rain is about. My hair isn't grateful for the move. Currently loving:
NIOD Photography Fluid